How To Use
Spatap Portable Tap

Spatap Portable Tap Instructions
Please watch the videos on Spatap installation for the best results in Tap and Shower modes. Just like any gadget, Spatap has its own tips and tricks. Follow the instructions carefully and the full power of this amazing tool will help you many times with all your portable washing needs. Spatap is a multi-award-winning device, it will serve you for many years, we guarantee you will fall in love with it.
🚰 Video Installation of spatap
(Tap Mode Hard Plastic Bottle)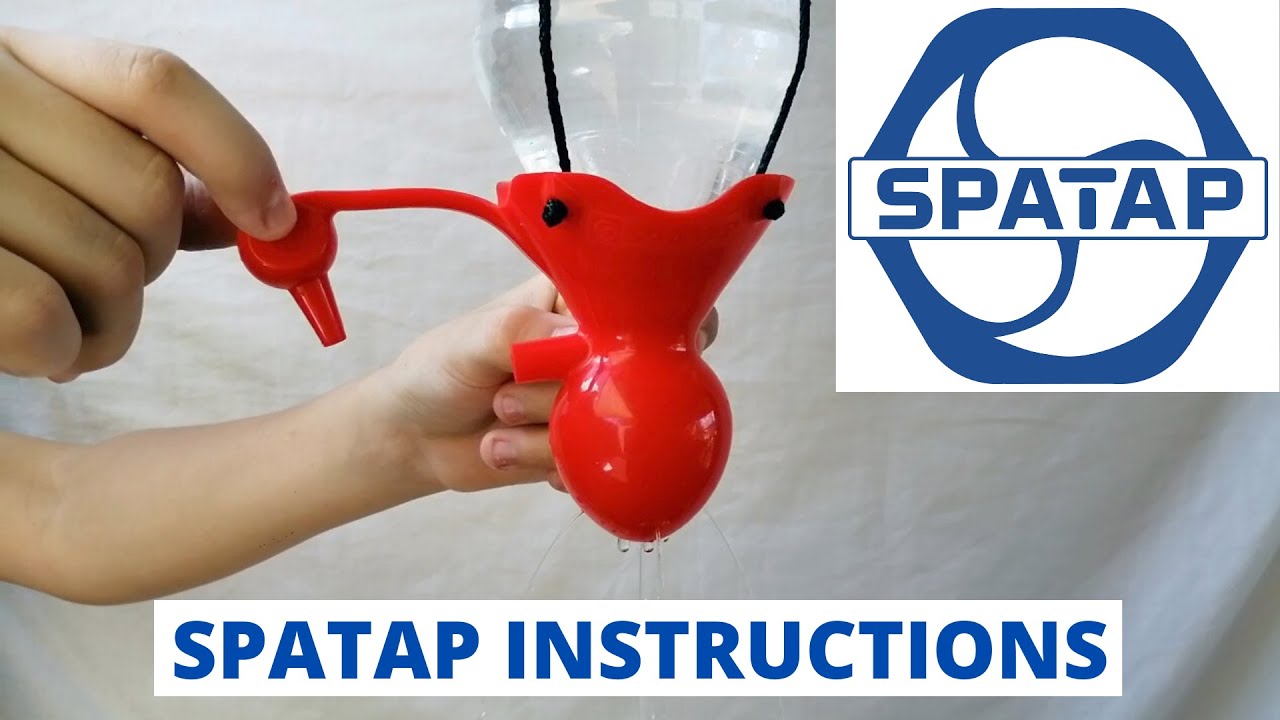 BOTTLE SELECTION
Different bottles are made from different materials and will produce different results from the Spatap. Select the correct bottle for your washing purpose.
The bottle or container you use will depend on your requirements for washing or cleaning. And how you use it will depend on whether water is abundance or scarce. 
AS A RULE
Use a hard or firm bottle to action minimal water mode, or free flow mode. This bottle will flow controllable  with the bung starting and stopping the flow of water when it is place in and out of the air valve.
Use a soft bottle or a collapsible bottle for a Shower. The softer the bottle the more the bottle will implode and force the water out under high pressure. Softer the bottle, the higher the pressure. These type of bottles are NOT suitable if you require a Tap mode as described above.
Experiment with different hard and soft bottles to find which one is right for your washing needs. All bottle are not the same and will give different flow rates and washing experiences.
A rule of thumb is:
1.25L bottle or smaller is good for a Tap
2L bottle or bigger is good for a shower
Some bottles are good for both
Find your perfect bottle and check out our shop for Spatap recommendations
🚿Installation of spatap shower
(Soft Plastic Bottles)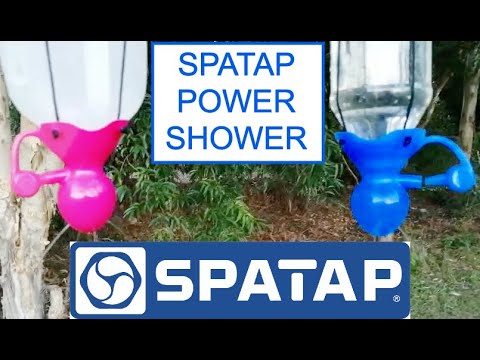 ☝ Make Spatap and the bottle airtight when using in Tap mode
🚰  Aim for an airtight seal, remove any bottle rings, and make sure the Spatap inner flange is not crossing the bottle thread. This is important as any air gaps will produce a leak or slow drip when used in the Tap mode.
🚿 If using as a Power Shower then any bottle leakage is not as important as the whole bottle will empty over the course of the shower.
The selection of the correct bottle or container is important for the best results.
Experiment and try many different bottles, containers, cans, jam jars, shampoo bottles, military canteens, soft plastic bottles of varying sizes e.g 600ml, 1L, 1.5L, 15L etc. Cans are also able to be used. The Spatap needs to be stretched over the top of the bottle lip and has been fitted onto a 42mm diameter bottle lip with a 19litre bottle. This size bottle can dispense over 1500 handwashes, perfect for a rural school with no plumbing infrastructure. See our Hand Hygiene For Health hand washing in schools project to learn more

🚰  How to Dispense Water in 3 Different Ways
Minimal, Free flow, Big Wash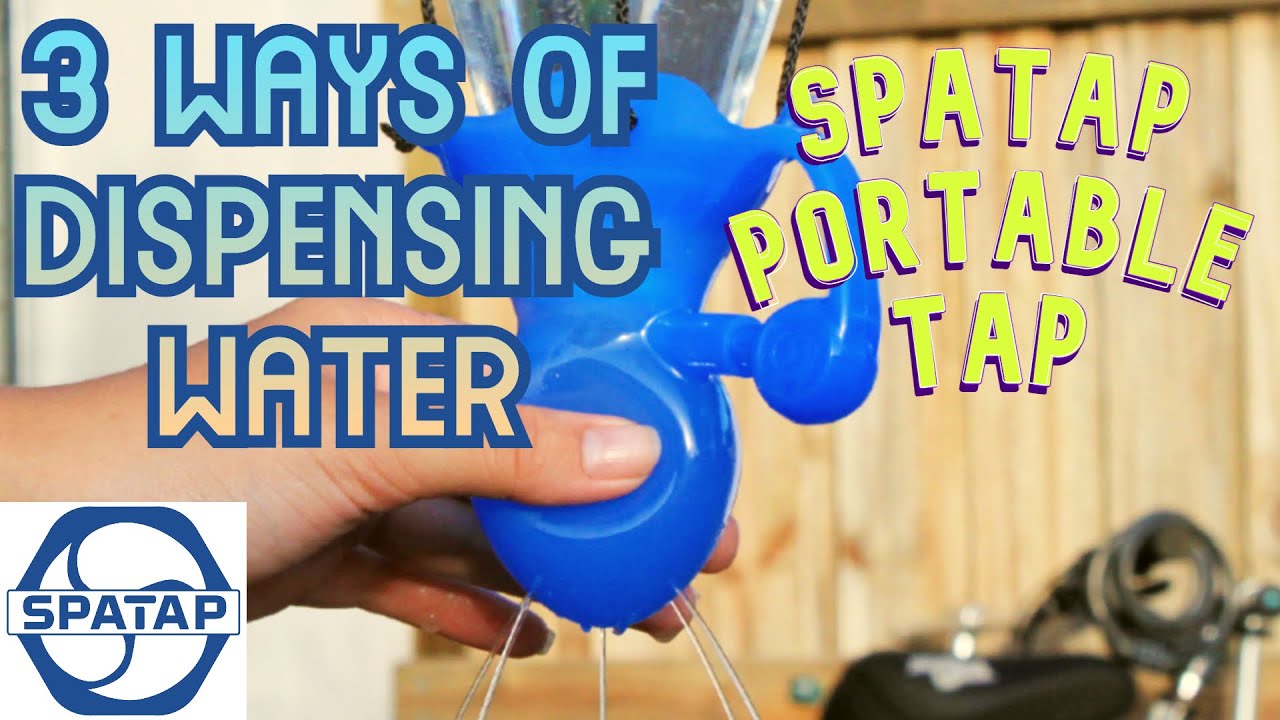 Spatap can dispense water in 3 different ways, this can help with water conservation and handwashing where there is water scarcity;
1. Minimal water mode – squeeze with the bung in too dispense 10mls +/-
2. Free flow mode – bung out water will flow out 1.5L approx. 15 mins of flow. 15L bottle 2hrs 36 mins of flow
3. Big wash – bung out 50mls +/- depending on the pressure of squeeze.
Handwashing, soap and showering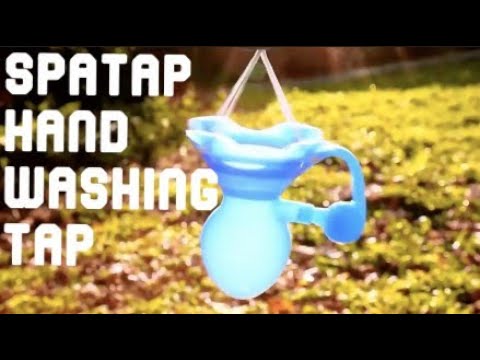 Solar Hot water Shower – Plastic bottles expand and contract
🌞 Spatap is UV stable, but plastic bottles left in direct sunlight for over an hour will tend to expand and contract, thus causing leakage .
To avoid leakage simply hang your Spatap and bottle in the Shade. If you want to use it as a solar shower then simply heat the water in the bottle first with the Sun's rays and then attach the Spatap for dispensing.
Spatap is used recreationally, educationally, and in the developing world where plumbing infrastructure and access to a tap for handwashing is difficult to obtain.
Soap Storage With A Spatap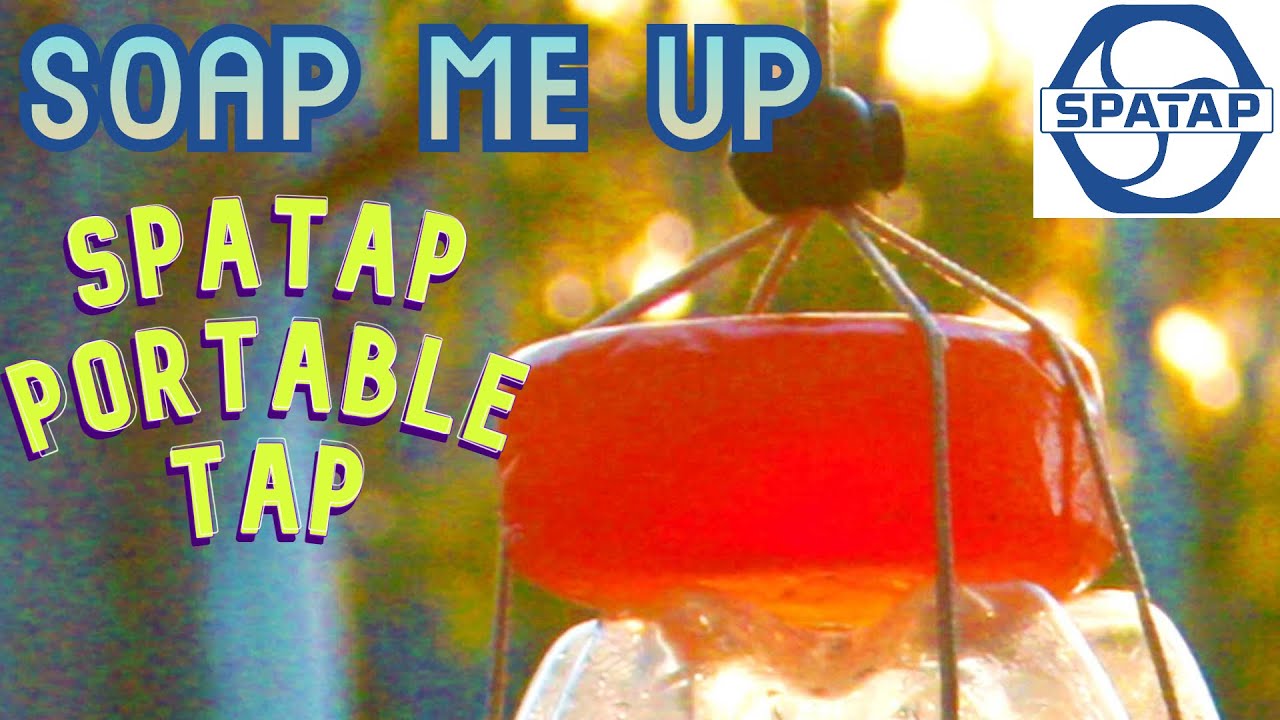 Different Types of Bottles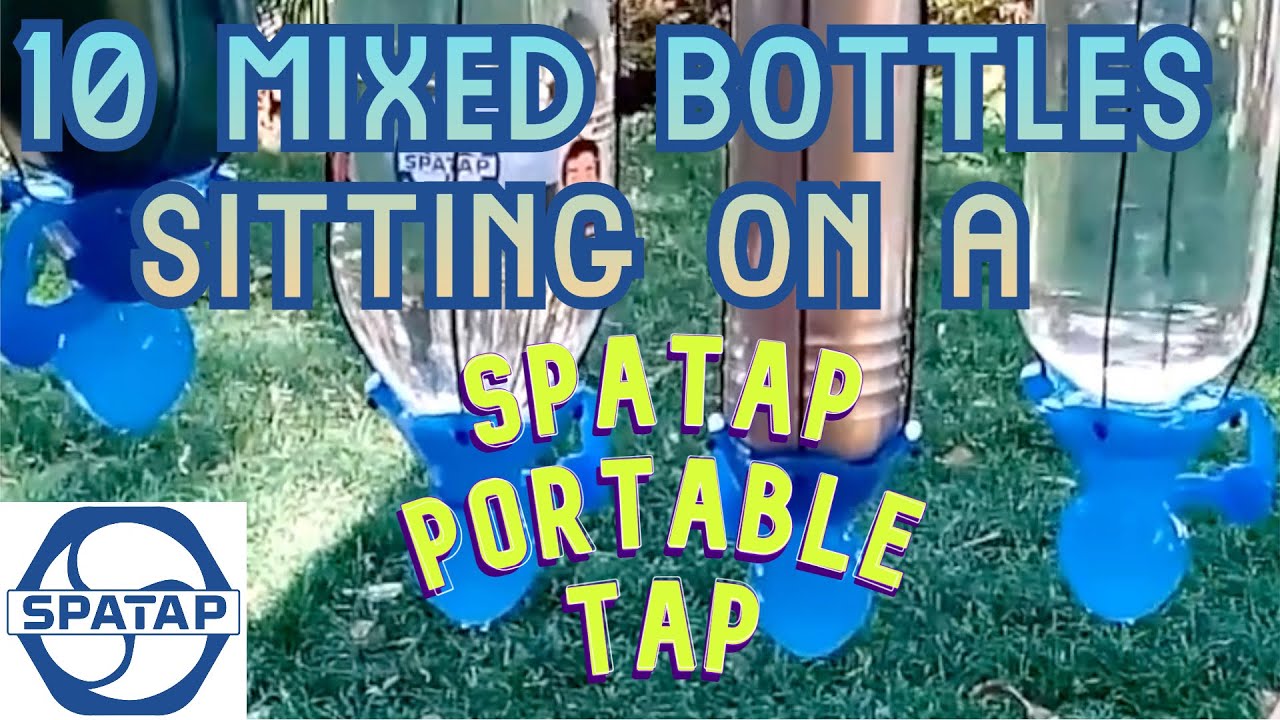 ℹ️ STEP BY STEP INSTRUCTIONS TO LOAD A BOTTLE/CONTAINER
Hang Spatap in a suitable place
Make sure bung is inserted
Invert the Spatap so the opening faces downwards
Insert full bottle of water upwards
Force fit bottle into SPATAP
Secure in place adjust cord lock toggle
Soap secured in place & completed installation
Squeeze with the bung in minimal water usage
Remove bung free flow water for handwashing
🚰 Flow Controllable Tap  🚿 Power Shower 💧Water-Saving
♻️ Upcycling🧴 Fits any bottle  🔨 Made to Last  🏆Award-Winning ⚖️ Ultralight
✅ Quality Tested 🏕 Used in Outdoor Recreation 🆘 Used in Disaster Relief
🏠 Used in Long-Term Development 👩‍🎓 Used in hygiene Education
🌐 Thousands of Users Worldwide ✋ Rotary handwashing Project
Handwashing Video & Soap Bar Usage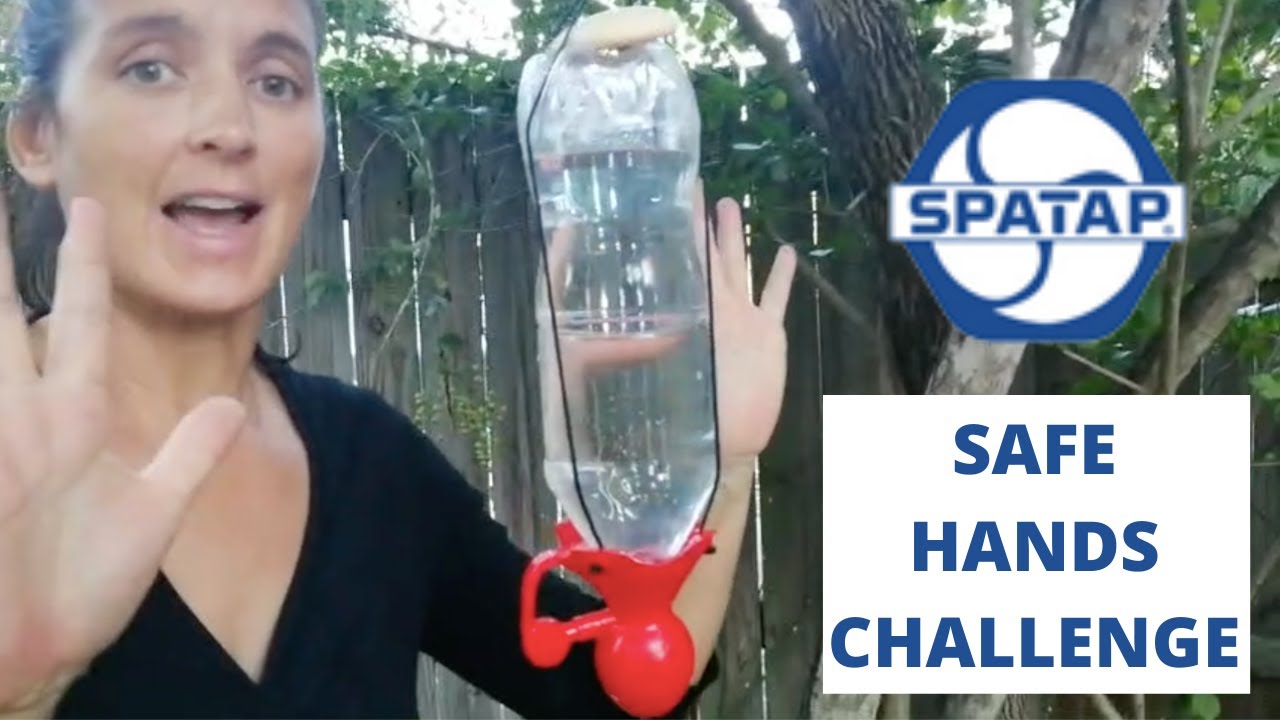 The 4 Principles of Hand Awareness:
1. WASH your hands when they are dirty and BEFORE eating.
2. DO NOT cough into your hands.
3. DO NOT sneeze into your hands.
4. Above all, DO NOT put your fingers into your eyes, nose, or mouth.
The 4 Principles of Hand Awareness have been endorsed by the AMA and AAFP.