Attach a bottle & create a portable tap
Handwashing or dispensing water whilst outside is now possible.
Carry your own pocket-sized clean and hygienic tap with you anywhere. Wash your hands properly with soap and running water which is much more effective than hand sanitizer and much more eco-friendly than using wipes. A 1.5L bottle of water will dispense up to 60 hand washes with soap and water. Regular handwashing helps prevent the spread of many communicable diseases.
"Handwashing is an effective tool to prevent COVID-19, other diseases"
https://www.who.int/
No contamination issues
Public taps and faucets are often very unhygienic and can be contaminated by the previous user. Carrying your own personal tap has never been possible before, until Spatap handwashing tap. Simply attach a bottle!
Spatap has 2 different flows of water
Water flow varies slightly with different bottles
Not all bottles are made the same
Different flow rates from different bottles
Use your favourite bottle as a personal tap
Firm Bottle = Tap
Tap Mode is perfect for handwashing, use a hard or firm bottle, and control the water flow as you need it. 1.5L bottle or smaller works best
Soft Bottle = Shower
Free Flow mode is great for a shower or cool down, use a soft bottle that implodes & forces water out under pressure. Usually 1.5L or bigger
Spatap can dispense water in 3 different ways
Easy soap storage
Soap is easily accessible when being stored at the top of the inverted hanging bottle. Handwashing with soap & water is essential for preventing the spread of communicable diseases including the COVID-19 virus.
The most powerful portable tap ever designed
Handwashing & hygiene anywhere
Spatap is used in varied situations, carry Spatap like you would carry a mobile phone and use it outdoor recreation or even emergency response.
Spatap can be used tactically and dispense single jets of water, big jets of flushing water or an even flow for sustained hydration. All different flow rates conserve water using advance water flow dynamics.
High quality Silicone with molecular memory, made to medical grade standards.
Made with the highest quality UV stable, food & water safe silicone. Includes a tough hook & loop adjustable hanging strap, nylon cord with adjustable cord lock toggle.
For best results
Stretch Spatap tight over bottle lip
Make an airtight seal
Remove any bottle rings as they can cause an air leak
Make sure Spatap flange is NOT crossing bottle thread
Squeeze or open the bung to start water dispensing
Use the base of the inverted bottle as a Soap caddy
Hang Spatap anywhere with the strap
or,  Use handheld – no need to hang
Clean, hygienic, multi functional, portable, the King of outdoor water dispensing.
Spatap a Swiss army knife for water.
Spatap's user base inludes, festival-goers, government health & education departments, sailors, rural schools, campers, charities, schools, film crews, defense force personnel, parents, hikers, gardeners, truck drivers, picnickers, motorists, pet owners, masseurs, first aiders, sportspeople, in fact, anyone that needs a tap!
Insert any bottle
Spatap's design fits to many shapes and sizes of bottles. It attaches to 600ml bottles up to 19L big bottles or 24mm-42mm bottle lips.
Australian Aid Water Competition 2017
Standard Bank Water4Africa 2015
Humanitarian uses of
Spatap handwashing tap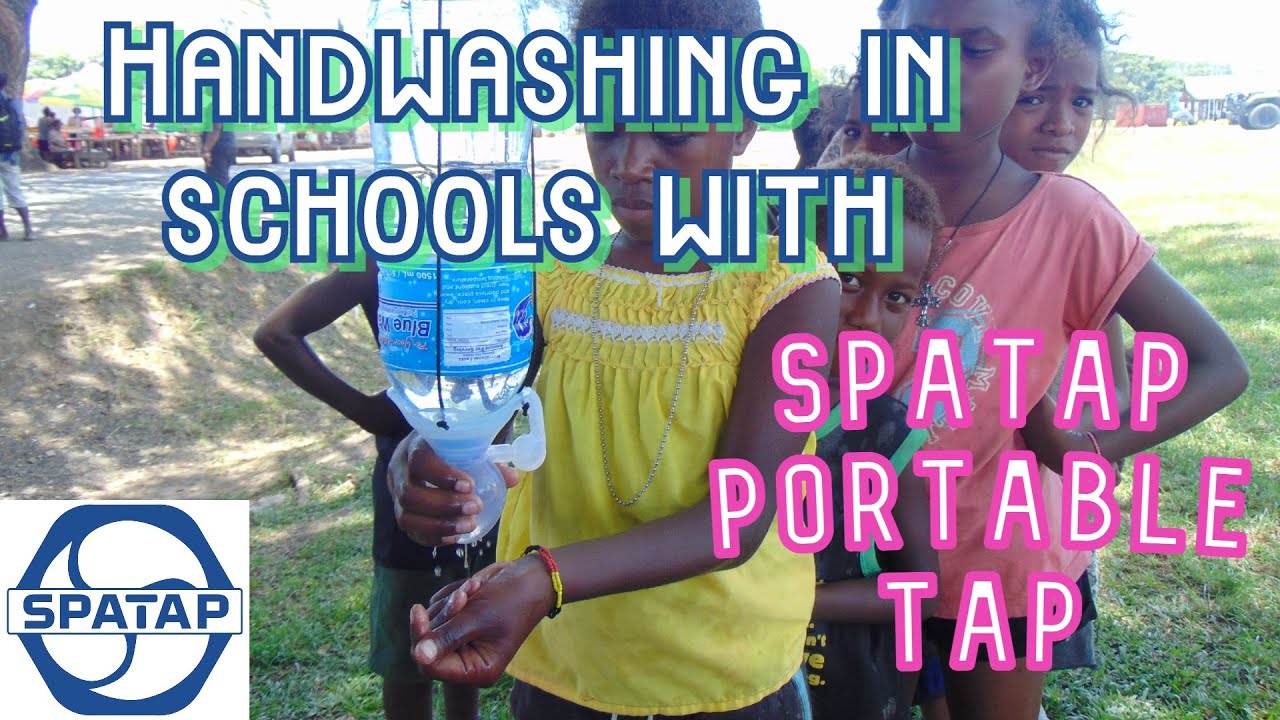 Spatap is partners with
Global Handwashing Partnership
Spatap handwashing in schools
According to Wateraid 3 billion people do not have access to a tap
Give the gift of hygiene and handwashing today and support
Hand Hygiene For Health In schools project
https://handhygieneforhealth.org/